By Natalie Taylor
Romeo Villalva Tabuena, an important, and outstanding artist, lived and worked in our city for sixty years. He was truly an international artist, who gained life experience, education, and culture around the globe.
Tabuena was born August 22, 1921 in Iloilo City, in the Philippines. He studied architecture in Manila, and painting at the University of the Philippines. His talent was first recognized in 1949, when he was part of numerous art exhibits in the Philippines. But Tabuena wanted to learn more from the Masters, so he went to the United States in 1952 to study at the Art Students League of New York. Then in 1954, he went to France to study at the Académie de la Grande Chaumière in Paris. Years later, reflecting on his works, Tabuena stated that Cubism and Chinese vertical-format painting greatly influenced him. Although he worked mostly with acrylics, oils, and watercolors, he was also a fine printmaker.
Although a major reason for Tabuena's move abroad had to do with his desire to expand his artistic knowledge and repertoire, there were also political and economic factors. He was of a generation of Filipinos who became part of a diaspora, choosing to leave their country in the late 1940s and beyond, in search of better opportunities. The Second World War took a horrible toll on the Filipino population, who had joined the allies to fight Japan. Aside from losses in battles, the civilian population suffered torture, rape, and death, during the Japanese occupation. Data suggests that 15 million soldiers and 45 million Filipino civilians died during the war years. Although the United States granted independence to the Philippines in 1946, the transition was not easy, and the country fell to high inflation, and many other economic problems.
After his studies in the United States and Paris, Tabuena moved to San Miguel de Allende in 1955. He became an integral part of the thriving, artistic community in the city, and found himself in great company with major Mexican artists like Rufino Tamayo, José Chávez Morado, Carlos Mérida, Feliciano Peña, and Jesús Nicolás Cuéllar, with whom he shared friendships, and support. Many great artists had lived and worked in San Miguel, but were no longer there by the time Tabuena arrived, yet their legacies remained. Even though he missed Federico Cantú, David Alfaro Siqueiros, and Pedro Martínez, their fine murals remained on the walls in San Miguel de Allende, and their spirit permeated the city then, as it still does to this day. In Mexico, he met and married Nina, who was also studying art, and together they settled in San Miguel. The city turned out to be the perfect artistic and living environment for Tabuena, and he remained here till his death in 2015.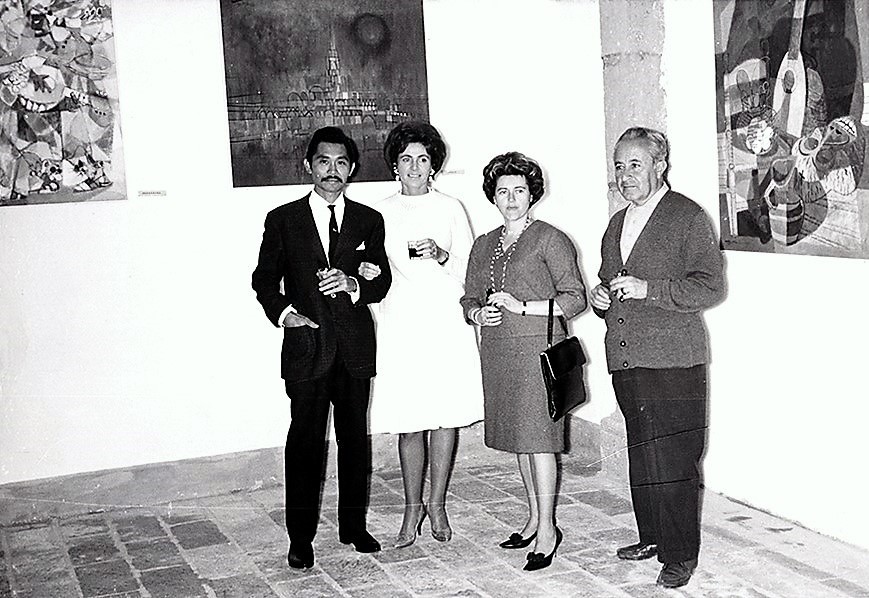 He had worked with acrylics, oils, and watercolors in a Neorealist style, depicting everyday working people, and animals native to the Philippines, like the caribou. In Mexico he seemed to find many parallels with the scenery of his native land, and his paintings became a combination of Filipino and Mexican cultural themes, such as people working in the fields, traditional housing, and native plants. Most of the figures are elongated, and he used luminescent colors from the entire spectrum. His assimilation in Mexico is not surprising, since both Mexico and the Philippines share a long history of Spanish influence, and subjugation of native culture. Mexico was ruled by Spain from 1521 to 1821—a total of 300 years. The Philippines was under Spanish rule longer than that, 1565 to 1898, a total of 333 years!
Nicolás Cuéllar, about whom I wrote in a previous article, had this to say: "Romeo Tabuena and I were grant-recipients at Instituto Allende…Romeo was very quiet and he liked to paint portraits of women, very geometricized…Cubist style…with Mexican features but also Asian, Chinese-Filipino…he wanted to get to know our great muralists…" Others described him as "a gentle soul who appreciated good food, friends…[and] similarities between Mexico and the Philippines." One of his major works is a mural, Filipiniana, at the Philippine Embassy in Washington D.C., most likely influenced by the muralists of Mexico. He is listed in the "Who's Who" of internationally renowned artists and intellectuals; another artist San Miguel de Allende can call its own—both he and the city adopted each other. Sadly, we do not have any of his works in any public buildings. They can be viewed in some of the city's art galleries.
Natalie Taylor: BA in English Lit and Journalism, Loyola University, Chicago, 1995. MFA in Creative Writing, Vermont College, Montpelier, VT, 1999. Published writer, editor, journalist. Spanish teacher in the US, English teacher in Buenos Aires, Argentina. Translator. www.natalietaylor.org Contact: tangonata@gmail.com