Gay Pride Day
The International LGBT+ Pride Day, also known as Gay Pride Day, is celebrated every year on June 28. LGBT+ communities organize events to express their support for the fight for equality and dignity for gay, lesbian, bisexual, and transgender individuals. In many countries around the world sexual diversity is persecuted and criminalized by laws and the authorities, though some countries recognize sexual diversity at the national level. Society is still far from accepting a reality that should have been normalized long ago.
7th Edition of the National Forum on Organic Agriculture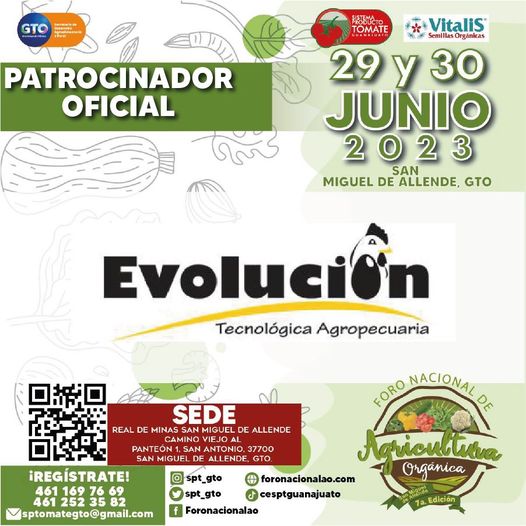 This event will bring the entire organic production chain together. Producers and suppliers of various inputs and services, as well as marketers gather, and organic agriculture experts share their knowledge to promote the consumption and production of organic vegetables in the state of Guanajuato and Mexico. The event will take place on June 29 and 30 at Hotel Real de Minas in San Miguel de Allende. Register directly on the website: https://foronacionalao.com/registro/, via email at sptomategto@mail.com, or by calling 461 169 7669 or 461 252 3582.
Presentation of "Camino Tierra Adentro" (Inland Road)
The book Camino Real Tierra Adentro is about Guanajuato. It is one of four volumes in the Guanajuato Vive Grandes Historias collection, and was introduced on June 9 at the Museum Palacio de los Poderes in Guanajuato Capital. Camino Real Tierra Adentro was edited by the State Government through the Secretary of Tourism and was written by chroniclers, archaeologists, historians, architects, specialists in cultural tourism, geographers, cultural managers, writers, and photographers from different institutions and backgrounds. It highlights the Camino de la Plata (Silver Route), which was made a World Cultural Heritage by UNESCO in 2010. The route encompasses 70 sites along 1,400 of its total 2,600 kilometers.
World Travel Expo in Miami, Florida
Mayor of San Miguel de Allende Mauricio Trejo participated in the 2023 World Travel Expo convention of the elite tourism sector in the Americas, which took place from June 13-15 at the Airport Convention Center in Miami, Florida. Trejo was one of the expert panelists who discussed the importance of tourism in Mexico and the attractions that San Miguel offers international tourists. Trejo met with the Consul General of Mexico in Miami, Jonathan Chait, to promote actions to strengthen the bond between San Miguel and this important city in Florida.
León Summer Festival 2023
The León Summer Festival 2023 will take place from July 28-August 13 and will feature family activities and free admission. In its second year, over 820,000 visitors are expected to attend and generate upwards of 589 million pesos over the course of 17 days. León Mayor Alejandra Gutiérrez emphasized that this festival will create 2,000 direct and indirect jobs. The festival will feature a Kids Zone, which will include children's rides, recreational activities, animal workshops, inflatables, and a miniature car circuit. Various activities will promote healthy living, and a beach area will be a highlight this year.
Parade of Locos 2023
This Sunday, the traditional Parade of Locos 2023 took place, where San Miguel went wild and drove locals and visitors crazy. This year there were great numbers, breaking records for both participants and spectators (more than 130,000 people in total). With traditional characters such as clowns, vieijtas, superheroes, wrestlers, and animated movie characters, these 5,200 participants came together to liven up the streets of the municipality with their dances and sweets.